April 3rd, 2021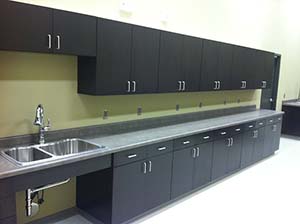 Miller's Casework offers custom commercial cabinets to transform any work place into a more productive and comfortable setting. If you are in Knoxville, Tennessee, or the surrounding area, we would appreciate the opportunity to inspect your location and listen to your cabinetry needs. You can reach us at (931) 739-9292 so we can provide you with a customized commercial cabinetry estimate.
With Miller's Casework we take the time to listen to your suggestions, budget and time restraints to assist us in designing and building your commercial cabinetry. You are not just another project with us, you are a valued customer.
How Will You Benefit When You Choose Miller's Casework?
Commercial cabinetry for an office setting and cabinets for storage are two completely different things. For the office, it is usually in the form of desks or terminals with complementary filing and storage pieces that not only help to utilize the workspace, but are also aesthetically pleasing. Cabinetry design strictly for storage is typically geared with functionality in mind.
Miller's Casework can provide custom office cabinetry and commercial-grade cabinets to meet and satisfy any requirements. Our commercial cabinets are built to house and protect anything from paperwork to tools. A few additional reasons we should be number one on your list are: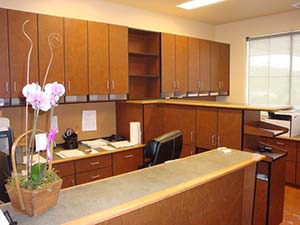 Personalized service from every team member
Casework built with techniques meeting or exceeding Architectural Woodworking Institute standards
Customized cabinetry solutions tailored for your specific needs and budget
High quality products of the finest materials
Decorative laminate and melamine casework options
Open and clear lines of communication from the very first phone call to the completion of your commercial cabinetry projects
There is no job too large or small for our dedicated team.  Owner and operator, Albert Miller, comes from a line of Old World woodcrafters that take pride in their work. Combining this inherited expertise with modern day technology he has built a company that is known for its quality cabinetry and high standards.
If you are in Knoxville, Tennessee please don't hesitate to call us at (931) 739-9292. We look forward to the chance of improving you work place and providing the necessary storage to help you organize your office.
Commercial Cabinetry Estimate
If you are in the great states of Tennessee, Kentucky, Alabama or Georgia give us a call for a free project quote. We specialize in customized, sturdy commercial cabinets that offer a European frameless design. Our attention to quality craftsmanship shows in every aspect of our work. Call us today at (931) 739-9292 so we can provide you with a no-cost, no-obligation custom cabinetry estimate.
We look forward to designing commercial cabinets that will look beautiful and serve you for years to come.