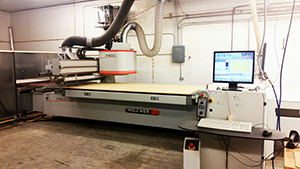 Are you in need of a professional cabinet manufacturer? Does your business require strong and dependable cabinets? If you're located in or around Cookeville, Tennessee, then Miller's Casework is the manufacturer for you! Miller's Casework is a family-operated business providing reliable Old World design cabinets for residential and commercial clients.
If you're in need of new cabinetry, give us a call today at (931) 739-9292 to schedule a meeting at a time convenient for you. One of our personnel will visit your location and assess your needs. Our skilled technician will provide you with customized solutions based on your cabinetry requirements. After, we will discuss any questions or concerns you may have.
Commercial Cabinet Manufacturer
As a full-service commercial cabinet manufacturer, we are proud of our ability to combine quality craftsmanship with modern methods. This allows us to provide commercial cabinets without losing any of the quality. With Miller's Casework, you can rely on us for receiving these professional commercial cabinet manufacturing services: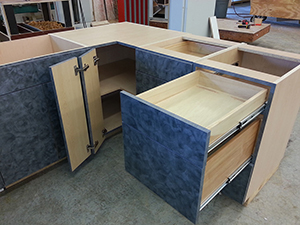 Manufacturing methods that always surpass those of the Architectural Woodworking Institute
Commercial casework that is fully personalized
A large array of designs and products using both High Pressure Decorative Laminate (HPDL) and Melamine
All of our productions are done with industry-leading CNC software and equipment
A wide selection of color choice to compliment the aesthetic appeal of our frameless cabinets
Customer service to the highest degree
Residential Cabinet Manufacturer
We also offer beautiful frameless cabinets for residential needs. Whether it's a kitchen, bathroom, home office, or entertainment center, Miller's Casework has the experience to handle it. One of our perks is that the creativeness of our Old World style cabinets is a staple in the residential and commercial world.
Our ability to blend Old World workmanship with modern methods make us a popular choice for homeowners. If you're interested in receiving a no-cost professional quote, call us today at (931) 739-9292.
Residential & Commercial Cabinet Manufacturer Estimate
We take pride in providing high-quality cabinets to commercial and residential clients. Miller's Casework is dedicated to the craft and puts customer satisfaction as the main priority for every project we take on.
If you'd like to learn more about the services we provide, you can contact us today at (931) 739-9292. We are excited to help!
Don't wait – call us at (931) 739-9292 for a professional quote! We look forward to the opportunity of working with you on your residential or commercial cabinetry project.