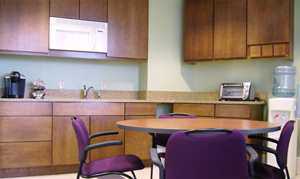 For durable commercial cabinetry of the highest quality materials, Miller's Casework is the best choice. We are the leading cabinet manufacturer in Lebanon, Tennessee and the surrounding areas. Our service area also includes strategic locations in Georgia, Kentucky and Alabama as well. Call us today to see if we provide our cabinet manufacturing services to your city. You can reach us at (931) 739-9292.
Finding your perfect look
We have created standard designs to quickly serve our clients with strict project deadlines.  We also have a wide variety of options available for a more customized look.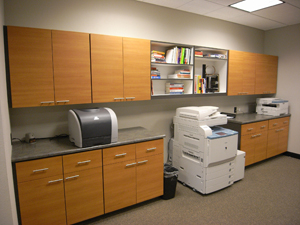 Materials – We offer Melamine and HPDL cabinet materials. Melamine is a more budget-conscious option that permits project flexibility, while HPDL is sturdier and the go-to choice for our usual cabinets.
Brands – If you have a clear picture of the brand you prefer for your cabinetry project, we can accommodate your needs. However, WilsonArt and Formica are our standard options.
Color – Primarily we have two options for our Melamine cabinets, but there are more available at your request. For our HPDL there is a large variety of color possibilities.
Box selections – Finished veneers, plywood cores, finished interiors, finished ends and so much more. We'll make any alteration to guarantee your satisfaction.
Whatever style you are looking for, the team at Miller's Casework can help. We are sure to find the style and color that suits your building and works within your timeline and budget.
Our main goal is to continue being the number one cabinet manufacturer for Lebanon, Tennessee and the surrounding communities. For a custom cabinetry estimate please contact us at (931) 739-9292 and we will be happy to inspect your location and listen to your needs to determine the best course of action.
We hope to hear from you
Let's start the new year off right with beautiful commercial cabinets for your space. We want to create a new, fully functioning look that will improve your efficiency. For our clients located in Lebanon, Tennessee you can reach us at (931) 739-9292.  Let us show you why we are the go-to cabinet manufacturer and add you to our ever-growing list of satisfied customers!