Old Craftsmanship, Modern Techniques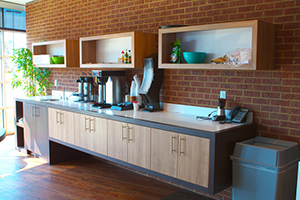 Commercial cabinetry serves numerous functional and aesthetic purposes. By creating additional storage space and systematically arranging your office, they expand employee productivity and quicken the workflow. Cabinets also organize the high-traffic areas in your office and lend it a charming, efficient look. If you want to improve the aesthetic and efficiency of your workspace through building commercial cabinetry in Chattanooga, TN, call Miller's Casework at 931-739-9292. We will take your office to the next level.
What really sets us apart is our success in balancing the best between the old and new world styles. Miller's Casework combines old world craftsmanship with modern, CNC manufacturing processes to deliver cabinets and casework of astounding quality, functionality, and appearance.   All our materials and manufacturing techniques meet or exceed the standards laid down by the Architectural Woodwork Institute.
Meticulously Yours: Miller's Casework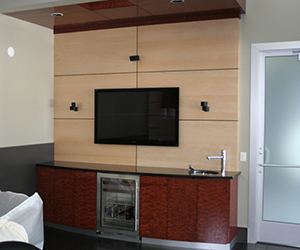 Miller's Casework offers the following commercial cabinetry services in Chattanooga, TN:
Value Engineering
Detailed Planning
Project Site Analysis
Categorical Specifications
Site Research
Project Manager
Timeline Understanding
Call us today at 931-739-9292 for seamless, start-to-finish project execution. Miller's Casework makes:
Commercial Frameless Cabinets for any setting and strength
Custom:
Millwork Cabinetry
Hardwood Cabinetry
Cabinetry from Reclaimed Wood
Stainless Steel Cabinets
Laminated Commercial Casework
We understand that each commercial client has different needs when it comes to their cabinetry.  Here at Miller's Casework, we will make sure we customize your cabinets to expertly match your requirements.
The Undisputed First Choice
As a family owned and operated business, Miller's Casework maintains one-on-one personal bonds with its many valued customers. Call us at 931-739-9292 for commercial cabinetry in Chattanooga, TN and get:
Meticulous and Professional Craftsmanship
Personal Focus by Friendly and Courteous Personnel
Excellent Customer Service
Computerized Manufacturing Process
Premium-Grade Materials and Techniques
Durability
Range of Material, Color, and Brand Options
Diligent Work Standards for Speed and Quality
Smooth Project Execution
Minimum Waste
Warranty Options
Our strong family values show who we truly are through the way we treat all our clients.  We believe in providing the absolute best to each and every customer who calls on us.  Let us show you why so many business owners have trusted Miller's Casework with their commercial cabinetry needs.  Call us today at 931-739-9292.  We look forward to working for you.