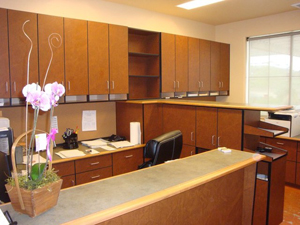 Miller's Casework is a full-service commercial cabinetry manufacturer. We specialize in designing and installing beautiful custom cabinets for warehouses, medical facilities, schools, locker rooms, banks and office buildings. Whatever your commercial cabinetry needs, the team at Miller's Casework is ready to work for you.
We provide our custom services for the Knoxville, Tennessee area as well as specific locations in Kentucky, Alabama and Georgia. Call us today at (931) 739-9292 to find our if we serve your town.
Cabinetry Materials
We only use the highest quality materials to better ensure the success of our commercial cabinets, just another reason our cabinets are the best in our area. We offer HPDL and Melamine for your cabinetry project to suit any budget and style preferences. Several colors are available as well and we are sure to find something that will fit nicely in any office setting.
We have custom cabinetry solutions for any budget, time frame and storage needs. If you have an office that could benefit from our commercial cabinetry services and are located in Knoxville, Tennessee, please call us at (931) 739-9292 so we can help.
The Miller's Casework Difference
With Miller's Casework, we are driven by perfection. It is our goal to continue leading the commercial cabinetry industry for many years to come. From the first phone call, to the completion of your cabinetry project, we will maintain open lines of communication.  You will never be left in the dark. From working within your budget and time restraints to building you beautiful and functional office storage, our team can handle it all. At the end of the day, it is our goal to form a lasting business relationship with you and we know that to do that we must be the best in the business.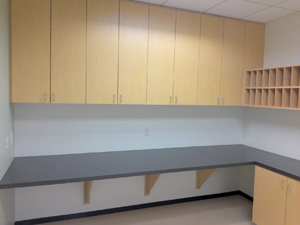 A few reasons we should always be at the top of your list include:
Quality custom cabinetry solutions
Professionally trained woodworkers
Respectful and dedicated craftsmen
Family owned and operated
Premium grade materials
A full understanding of putting the customer first
We hope that you will rely on Miller's Casework for all your commercial cabinetry needs. With our customizable service, we guarantee you will be satisfied with the work you receive. We proudly provide service to Knoxville, Tennessee and the surrounding cities.
Contact us today for a no-obligation estimate. We would be happy to hear from you. You can reach us at (931) 739-9292.