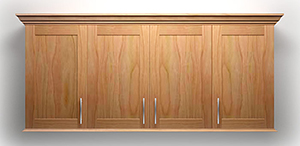 Are you in search of custom made commercial cabinetry for your business in Oak Ridge? If so, you've found the right company! Call the experts at Miller's Casework today at (931) 739-9292. We proudly service Tennessee as well as regions of Georgia, Kentucky, and Alabama.
Miller's Casework is a company run by a dedication to strong family values. We make this known in our attentive customer service with our clients. We are committed to providing outstanding craftsmanship and we never settle for anything less. Let us show you the Miller's Casework difference!
Commercial Cabinets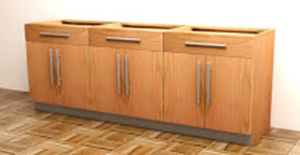 We know that every client is unique with specific requirements when it comes to cabinetry. This is why here at Miller's Casework our commercial cabinets are fully customizable to meet your expectations. Our standard features are:
HPDL bottoms matching your cabinet color
Interlocking fluid dowel designs using 5/16" industrial grade hardwood
¾" melamine tops
¼" thick exposed color interior backs
Hanger rails with ¼" backs set in ¾" from back for scribing to the wall
We design our cabinets to look elegant and beautiful with years of practical use. If you are located in Oak Ridge, Tennessee, contact us today at (931) 739-9292 so we can discuss your commercial cabinetry needs.
The Miller's Casework Promise
We are determined to go above and beyond with the work we provide for our customers. It is essential to us for you to know the value we bring at Miller's Casework. We are a business that has been founded on solid reputation and offering quality workmanship to all of our clients. We wouldn't be able to do what we do without the support of our valued customers. We are extremely grateful for that.
Here are a few reasons Miller's Casework stands out from our competition:
Beautiful combination of Old World design mixed with modern techniques
Professionally trained team members
Huge variety of color schemes and designs
Family oriented business
Professional estimate
If you are located in Oak Ridge, Tennessee or the surrounding communities, contact us at (931) 739-9292. We look forward to speaking with you!
Commercial Cabinetry Estimate
If you are hunting for a commercial cabinetry estimate, call us today at (931) 739-9292, we would be more than happy to assist you. Our professionals are ready to listen to your requirements and provide you with customizable solutions for your needs. We will utilize this time to answer any questions or concerns you may have to ensure you understand everything about the solutions we are providing.
If you are looking for a business you can rely on, Miller's Casework is the company for you. We support our work 100%! Contact us today – (931) 739-9292.
We are excited to have the opportunity to work with you.