Miller's Casework has a commercial division that specializes in designing, engineering, manufacturing, and installing commercial cabinetry. Maybe you need a custom storage solution for a medical office. Perhaps your office building needs more functional cabinetry but is limited on space. Whatever the problem, Miller's Casework has the answer with our beautiful, fully customizable frameless commercial cabinets.
Call us today at (931) 739-9292 to see what we can build for you!
Innovative Design With Frameless Commercial Cabinetry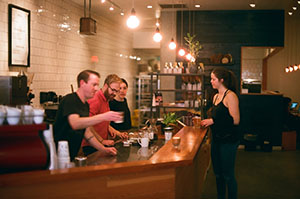 Modern cabinetry, casework, and shelving can transform the look and feel of your business, while also adding to the customer's experience. Well-built and stylish cabinets can make your commercial space more convenient, attractive, and comfortable, while reinforcing your brand and professional image. Whether you need a fashionable receptionist desk or a large number of cubicles or workstations, Miller's Casework has you covered!
Here are just a few of the commercial applications our cabinets are a perfect fit for:
Teller stations
Restaurant kitchens
Retail spaces
Display cases
Hotels
Medical buildings
Educational facilities
Churches/religious buildings
Athletic spaces/locker rooms
Community centers
Veterinary clinics
Community centers
Waiting rooms
Lounges
Shipping & receiving areas
And much more!
Wherever you install Miller's custom commercial cabinetry, you can be sure our distinctive frameless casework and cabinet fronts will be manufactured with the utmost attention and care to your exact specifications.
On-Site Manufacturing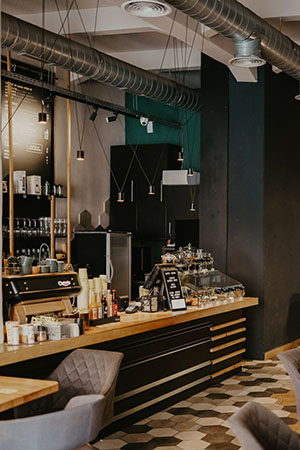 Every commercial cabinet we produce is designed and fabricated on-site in our Sparta, TN warehouse. We use cutting-edge technology and oversee every step of the manufacturing process right on the ground floor of our business. This allows us to meet the highest-quality standards in the industry and provide clients with the most beautiful millwork products. Other benefits of our on-site manufacturing process include:
We can quickly add to your order, if needed – whether you need just a few more pieces or many more.
We can quickly and more easily incorporate last-minute changes to your design.
We keep you up-to-date and can check on the status of your order from minute to minute.
Commercial Cabinetry Details
Our commercial cabinets can be fully customized to give you the look you want. Here are some of the many customizations available:
Casework material: melamine, high-pressure decorative laminate (HPDL), or a variety of name brands (Formica, WilsonArt, etc.)
Hinge construction: 120-degree, 170-degree, 5-knuckle
Finished interiors
Finished ends
Veneers
Plywood cores
And more!
Work With The Best
Miller's Casework combines modern technology with highly skilled craftsmen to fulfill every aspect of your commercial cabinet project. For fast turnaround, beautiful cabinetry, and courteous customer service, call Miller's today at (931) 739-9292.