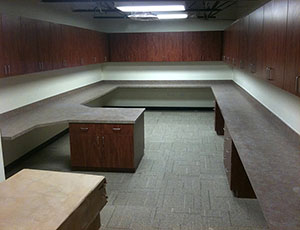 You only get one chance at a first impression. What first impression is your business facility giving your clients when they enter it? If it's time to update your workplace—both for style and for storage—some new commercial cabinets from Miller's Casework will be just the thing that you need. If you conduct business in Franklin, TN, or the surrounding areas, let us help you create an inviting, eye-catching space where customers will feel supremely comfortable from the moment they enter.
Miller's Casework is family owned and operated and offers top-quality commercial cabinet solutions for all types of businesses. Give us a call today at (931) 739-9292 to learn more about the services we offer to update and add functionality to your business facility!
Stylish Choices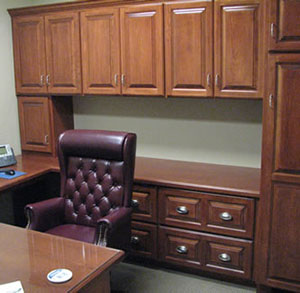 At Miller's Casework, we offer various options in terms of materials for your commercial cabinets so you always have plenty to choose from as we help you select the best look for your business facility.
The fundamental choice to be made is between laminate and solid wood. Laminate can be either a synthetic material or wood that has been cut very thin, while solid wood is just what its name implies—100 percent wood.
As with most things, there are pros and cons to be considered with both choices:
Laminate

PROS: Laminate can be made to look just like solid wood, complete with a glossy finish. It is also the less expensive choice, is durable and is easy to clean and maintain.
CONS: In a damp area, laminate will eventually start cracking, peeling or discoloring as time passes. Laminate is also known to weaken and become shabby-looking with the passage of time.

Solid wood

PROS: Solid wood can be treated, stained or painted to create any look you want. There are also many different kinds of wood, and each offers unique benefits, like durability and ease of use. Solid wood cabinetry can also last a lifetime if maintained properly.
CONS: The primary drawback of solid wood cabinetry is its price—it is significantly more expensive than laminate.
The Miller's Casework Difference
Miller's Casework proudly boasts a lineup of satisfied customers who are quick to sing our praises. That is because we perform only the highest-quality work using only the highest-quality tools, materials and techniques. The result is beautiful cabinetry that totally transforms your space.
We strive hard to complete our work on time and with the highest quality, causing as little disruption as possible to your everyday business opportunities. Call today for a free professional estimate, (931) 739-9292, and find out how Miller's Casework can transform your space through its expert specialists!