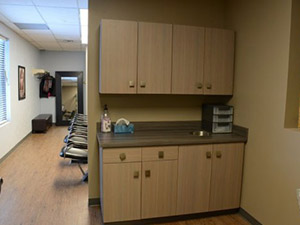 Miller's Casework is a family owned and operated business serving Murfreesboro, Tennessee, and surrounding communities with beautiful commercial cabinets that will create an inviting, organized space for your employees as well as your customers. Our associates are focused on providing the highest quality commercial cabinets for your office, restaurant, salon, locker room, or hotel. Our attention to detail and customer satisfaction shows with every project we take on.
Call us today at (931) 739-9292 to learn about the many services we have to offer that will bring beauty, organization and functionality to your business.
A Deeper Look
There are several material options when it comes to commercial cabinets and it is important to know the differences so you can find the best look for you space. We have broken down the differences between laminate and solid wood to give you a little insight to their main differences.
Laminate: For starters, laminate is a synthetic material or wood that is cut very thin. It can look like solid wood with a shiny finish. It is a more budget friendly option, when compared to solid wood, and is very easy to clean and maintain.
Solid Wood: Solid wood is fairly easy to explain, it's solid wood! One great advantage is the ability to be stained, treated or painted to create any look you desire. There are many different types of wood and each offers different advantages such as durability or ease to work with.
If you are interested in commercial cabinets for your Murfreesboro, Tennessee building, please call us today. You can reach us at (931) 739-9292. We will gladly discuss the different material options we offer as well as what we think would be the best fit for you and your budget.
What can you expect with Miller's Casework?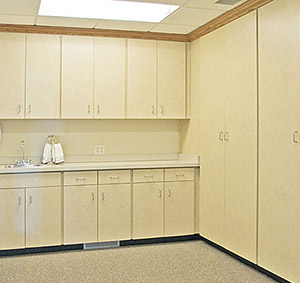 We are proud of our service record and will gladly provide previous customer testimonials to prove that our clients are also proud of our records as well! A few of the reasons we are leading the commercial cabinetry industry for Tennessee are:
Commercial cabinets that exceed Architectural Woodworking Institute standards
Personalized and attentive service
Quality materials and commercial cabinetry solutions to meet any storage goals
Wonderful combination of Old World Woodworking and new age technology
Fast turn around
Put your commercial cabinetry needs in the hand of a true professional casework company like Miller's Casework. For a FREE estimate you can call us today at (931) 739-9292. We will assess your situation, listen to your storage and organizational requirements and project timeline to create beautiful commercial cabinets. For those in Murfreesboro, TN looking for high grade cabinetry options, Miller's Casework is the team to call.