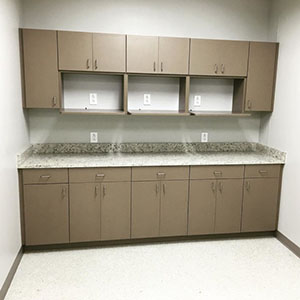 If you're in need of commercial cabinets in the Nashville, TN, area, Miller's Casework offers custom cabinetry solutions that boast exceptional quality, durability and gorgeous craftsmanship. We blend Old World workmanship with contemporary design and modern manufacturing processes. The result is exquisite cabinetry that is durable, functional and attractive.
If you need more storage space, want to update the look of your business or a combination of the two, Miller's Casework is your trusted source for outstanding custom work. For all of your commercial cabinet needs, you can count on Miller's Casework. Call us today at (931) 739-9292 for a free quote on custom-made, expertly crafted cabinets to transform your workspace.
The Miller's Casework Difference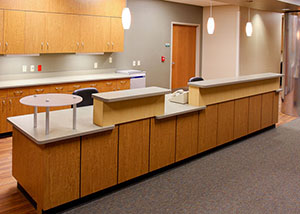 Miller's Casework is a trusted source for cabinetry solutions with a long list of satisfied customers. Our expert craftsmen give every single order their utmost attention, ensuring the finished product is nothing but the best. If you're looking for precision, detail and aesthetics, our custom work cannot be beat.
We have built our business on a proud family legacy of Old World woodcraft expertise, and we put this impressive heritage to work for our customers, delivering impeccable workmanship that satisfies both their functionality needs and aesthetic desires.
When you choose Miller's Casework, you can count on:
Materials and construction techniques that meet or exceed Architectural Woodworking Institute standards
Custom casework for any residential or commercial application
High-pressure decorative laminate and melamine casework options
Industry-leading CNC software and equipment
Vast assortment of color options for full aesthetic appeal
Incredible quality in every aspect of our manufacturing process
Outstanding craftsmanship for top quality and durability
Get Your Free Commercial Cabinet Quote
You can rely on Miller's Casework for all your commercial cabinetry needs. We pledge to deliver outstanding quality and excellent customer service. Over the course of the manufacturing process, you will always be met with friendly, professional service from our team.
Give us a call today, (931) 739-9292, for a free, no-obligation commercial cabinetry quote. We will provide you with the very best options to meet your needs and budget, and we will design an attractive custom cabinetry plan to ideally fit your space.