Custom Closets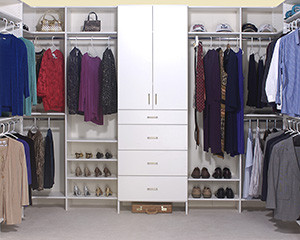 In addition to quality commercial casework, Miller's Casework offers custom closets in Tennessee. We are your Tennessee custom closets specialist – our custom storage solutions will turn your ordinary closet space into a classy hideaway with the space, utility, and personality you desire!
You don't have to settle for just enough storage space for a fraction of your wardrobe and other belongings. Custom cabinets with precise hanging rods and storage shelves will keep your shirts, sweaters, suits, and other clothing neat and tidy. And corner shelves provide additional, convenient space for extra pillows, blankets, purses, accessories, and other items. Rollout storage baskets, storage racks, cubbies, fold-out ironing boards, and more provide that extra dedicated space and complete functionality. With our closet organizers being custom-built, we can build for you a personalized closet system that's a dynamic balance of dedicated space, utility, and style!
Complimentary closet quotes!
(931) 739-9292
If you're looking for custom closets in Tennessee, contact us today at (931) 739-9292. A no-cost, custom closet quote is just a phone call away!
TN Closets & TN Closet Systems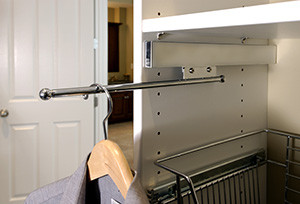 In our custom closet services, we don't start with pre-set standards. Rather, we begin with each client's needs as our benchmark – then we design, manufacture, and install custom closet systems that meet their exact specifications.
To ensure your closet system is long-lasting, we don't use the flimsy materials offered by competitors, but rather ones of a fine-grade caliber. And from the start, our highly experienced and courteous team will carefully evaluate your needs. Thereafter, they will help you to identify the best solutions for your unique requirements.
We can match virtually any décor with the closet systems we design and build in Tennessee, too. Contact us today for more details!
Other Custom Storage Solutions Besides Closets in TN
If you have storage dilemmas in other ways, we can help with that, too. We offer storage solutions for many applications, including:
Customized solutions for:
Single persons
Newlyweds & couples
Families with children
Business owners
And more!
Bookshelves
Garages
Pantries
Utility rooms
Offices
Master bedrooms
Walk-in closets
Laundry rooms
Entertainment rooms
Break rooms
And more!
Our Tennessee closets and custom storage solutions are available in many areas: Sparta, Cookeville, Crossville, Knoxville, Morristown, Kingsport, Johnson City, Sevierville, Marvyille, Cleveland (TN), Chattanooga, Columbia, Murfreesboro, Nashville, Jackson, Clarksville, Springfield, Gallatin, Hendersonville, and all of the surrounding communities.
Get Tennessee Closet Quote Today!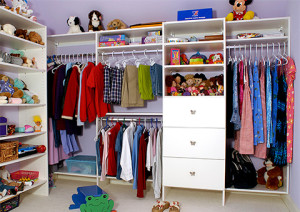 We offer no-cost project quotes as part of our closet building services. Contact us today for one and for more information about our closet design-and-build services. It would be our pleasure to serve you!