Miller's Casework designs and manufactures Tennessee's most durable and beautiful melamine and high-pressure decorative laminate (HPDL) cabinetry. We specialize in European-style frameless cabinets, which emphasize clean, seamless style and complete, easy access.
Whether you need simple, traditional cabinets for your office or whether you want fully customized, distinctive storage solutions for a chain of retail spaces, Miller's Casework has the skilled technicians and resources to help you achieve it. Call us today at (931) 739-9292 to receive a free, no-obligation quote.
All-In-One Frameless Cabinet Designer & Manufacturer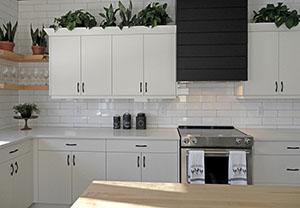 Unlike some large-volume cabinet factories, where options are limited and quality control and consistency are dubious at best, at Miller's Casework you get our undivided attention and personalized frameless cabinetry solutions. At Miller's, we employ professional millworkers who are experts at designing, engineering, manufacturing, and installing our beautiful cabinets. All work is completed on-site at our warehouse in Sparta, where project managers can oversee even the smallest details.
Because we control every aspect of our frameless cabinet manufacturing process, we can also offer the following benefits:
Your order can be adjusted in real-time. You call us, and we make the changes – no middle-man to delay the process. This includes adding more pieces to your order or making design changes (at certain points).
Our customers have constant access to project updates. Anytime you call, we can tell you where in the production process your cabinets are and much more.
Frameless Cabinets With The Look You Want!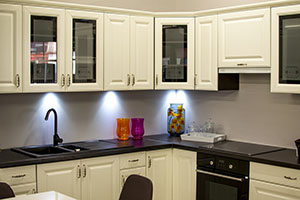 Miller's Casework combines old world craftsmanship with contemporary technology and techniques to create custom frameless cabinetry that meets your exact specifications. While all our cabinets are frameless, there are many other design choices to make to create a truly one-of-a-kind storage solution. Choose from the following:
Cabinet exteriors – melamine, high-pressure decorative laminate (HPDL), or a variety of name brands (Formica, WilsonArt, etc.)
Nickel-plated hinges – 120-degree, 170-degree, 5-knuckle
Dozens of colors
Dozens of finishes
Other customizations like veneers, plywood cores, finished interiors, etc.
Why Choose Miller's

Miller's Casework is truly the best custom frameless cabinet manufacture in Tennessee and the nearby states of Alabama, Georgia, and Kentucky. When you hire our team to fill your cabinetry needs, you can expect:
High quality, long-lasting materials at the best value
A wide variety of colors and finishes for full customization
Individualized attention and regular communication
Timeless, beautiful, but functional products
Attention to detail, from dovetail joints to high-performance hinge options
Honest, no-hassle estimates and consultations
Accurate timelines
Exemplary customer service
Cutting-edge computerized manufacturing technology
Products that exceed Architectural Woodworking Institute standards
We take very seriously our mission to provide our clients with high-quality, beautiful, enduring frameless cabinetry. Call us today at (931) 739-9292 to experience the next level of customer care!