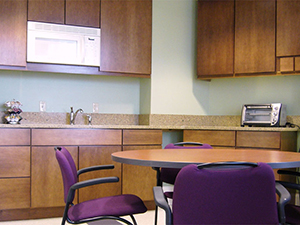 Are you in the market for custom made commercial cabinetry work? If you are in Cookeville, Tennessee, Miller's Casework is the company for you! Call us today at (931) 739-9292 so we can assist you with all of your commercial cabinetry needs.
Miller's Casework provides quality commercial cabinets to Tennessee as well as strategic parts of Georgia, Kentucky and Alabama. As a family oriented business we truly shine when providing our customers with the cabinetry work they have come to expect from our company. We stand behind our record of quality craftsmanship and exceptional customer service.
Benefits of Frameless Cabinets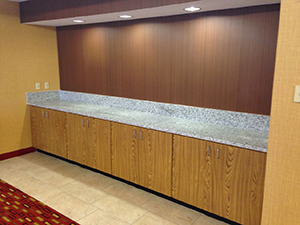 There are many leading benefits of choosing a European frameless cabinetry design for your commercial office. A few examples are:
More room for storing items
Provides a sleek, seamless look
Drawers tend to be larger
No center stile ensures easier cabinet access
Structurally sound
Whether you are looking for larger cabinets or a seamless look we have you covered. Our team is focused on providing you with the absolute best in all things cabinetry. If you are in Cookeville, Tennessee, or the surrounding area, give us a call today at (931) 739-9292. We look forward to your call!
Why Miller's Casework
Owner, Albert Miller and his family come from a line of Old World woodcrafters. The team at Miller's Casework has the ability to blend modern techniques with Old World methods to give you one of a kind frameless cabinetry. A few more additional reasons Miller's Casework should be at the top of your list are:
Exceptional customer service
Custom made solutions to fit your needs
Fully trained and certified installers
High quality cabinets of the finest materials
Large selection of designs and colors
A company is only as great as their customers think they are. We strive daily to provide one of a kind customer service and to consistently exceed expectations. Let us show you why countless others have chosen Miller's Casework for all of their cabinetry needs. If you are located in Cookeville, Tennessee let us help you.
Frameless Cabinet Estimate
Call us today at (931) 739-9292 so we can provide you with a no-obligation frameless cabinetry estimate. We will listen to all of your needs to determine what options are best suited to you. Let's get started on your frameless cabinet journey today!
From our family to yours, thank you for the opportunity of providing you with quality custom cabinetry.
We truly look forward to doing business with you.