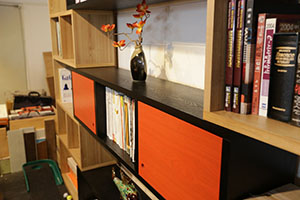 A beautifully designed cabinet makes a huge difference in a room, be it in a restaurant, bathroom, or a science laboratory. Frameless cabinets, also known as European styled cabinets, are in vogue for their novel design, which ensures the maximum amount of space utilization, with a subtle beauty of its own. Frameless cabinets merge well within a compact space, while giving you more accessibility.
Miller's Casework is a Tennessee-based cabinetry manufacturer known the world over for its world-class mastery of frameless cabinets. We produce high quality commercial frameless cabinets that offer many advantages over traditional cabinet designs.
We provide these services and products to our beloved clients in Jackson, TN, and nearby cities. To find out more about our work, call us at (931) 739-9292.
Smart Design, Versatile Uses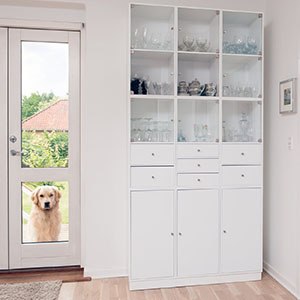 At Miller's Casework, our commercial frameless cabinets are made to satisfy your need for smart living solutions. Our frameless style of cabinet complements the lifestyle of millennials who prefer practicality over traditions.
Frameless cabinets became popular in Europe after the creation of the hidden hinge, which doesn't need a frame for proper installation. Our frameless cabinets are produced very efficiently, with the convenience of the end-user in mind.
Our frameless cabinets are made from strong materials and tend to be more durable than traditional cabinets. Because of this, they have the following benefits:
More spacious interior
Full accessibility
Faster assembly
Contemporary and traditional design options
Lower installation costs
We design our cabinets to complement and complete a variety of spaces, including but not limited to homes, bathrooms, garages, medical spaces, laboratories, and much more.
The Miller's Casework Difference
At Miller's Casework, we are about both quality AND value. To that end, our offerings are virtually endlessly customizable via material, color, and other options:
Material – We use a blend of melamine and high-pressure decorative laminate (HPDL). We offer templates for which material to be used and where it has been used within your unit, but our designs are flexible to include any customizations. HPDL is more durable than melamine and is made from a decorative paper, clear protective top sheet, and thin layers of resin. Melamine is more affordable and is made of thin layers of resin blended with papers.
Color – Our frameless cabinets come in different colors. Melamine comes in two main colors – almandine and white – while HPDL comes in a wide variety of hues. We can easily customize your frameless cabinet according to the color you want.
Brands – Formica and WilsonArt are our two main frameless cabinet providers, although we can customize your brand if necessary.
Door and door faces – ¾-inch unit board with HPDL exterior, matching liner surfaced unit board back, and 0.05mm PVC edge banding.
Standard drawers – Grass Zaregn unigrass series 5pc or 100# metal boxes.
Hinges – 120 degrees fully changeable nickel plated hinges. We also offer 170 degrees as well as heavy duty five-knuckle hinges.
Drawer boxes – 5/8-inch thermo-fused melamine.
Contact us at (931) 739-9292 to discuss your specific frameless cabinet needs. We offer free quotes and are happy to answer your questions!