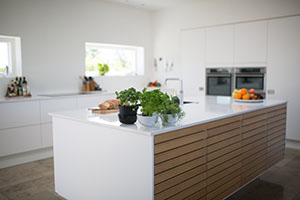 Frameless cabinets continue to grow in popularity for both commercial and residential spaces throughout the United States and at Miller's Casework, we're proud to say these are one of our specialties! Our team of skilled craftsmen will work closely with you to make sure you can get the look you've been wanting as well as getting extra storage and workspace! Frameless cabinets are also commonly known as European cabinets among other names. It doesn't matter if you're looking to replace old cabinets with spacious and stunning frameless ones or if you're looking at frameless cabinets for a new project, our design services are sure to get you exactly what you want and need! We deliver flawless results on every job we complete for our customers in La Vergne, TN and the surrounding areas and look forward to working with you! Reach out today at (931) 739 – 9292.
The Perfect Blend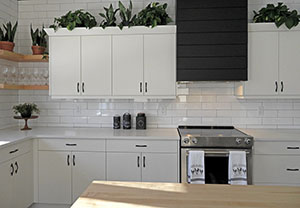 Frameless cabinets are stylish and they're a perfect blend of modern and classic tastes that are sure to impress. While they're visual appeal is stunning, the extra storage and workspace you gain from frameless cabinets are a couple of the main reasons they continue to grow in popularity. Whether you're strapped for space or not, the space you gain when you go with a frameless cabinet instead of your typical framed cabinet is a major benefit. With 10-15% more storage space, you can keep things even more organized! We offer several different types of materials that help to make your frameless cabinets incredibly customizable. You can also choose your colors, drawer options, hardware, and more! We've worked hard to make sure our customers get cabinets that fit their needs perfectly every single time. If you're ready to maximize your space, reach out to our team of knowledgeable craftsmen today!
Call Today!
If you'd like to learn more about your frameless cabinet options or if you'd like a free quote for your next project, give the professionals at Miller's Casework a call today. We handle projects of all sizes in La Vergne, TN and we're ready to get your cabinets designed and installed quickly yet perfectly. We will make sure your needs and wants are fulfilled so that you can soon have the space you require! Give us a call today at (931) 739 – 9292.