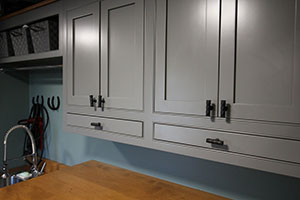 Frameless cabinets continue to grow in popularity and at Miller's Casework in Mount Juliet, TN, they've been our focus and specialty for years. We know the additional space they offer can be game changing, sometimes it's the simplest things that make everything run a little more smoothly. Taking away the face frame of the cabinet can give you 10 – 15% more room and that adds up quickly! For years, our craftsmen have been customizing and perfecting these cabinets for our customers throughout the area and we know we can get ones to fit your needs perfectly. If you're ready to stop wasting space and allow for more organization, we'll be happy to discuss your frameless cabinet needs. Give us a call today at (931) 739 – 9292 and we'll gladly put together a free quote for your next project!
Old World Meets Modern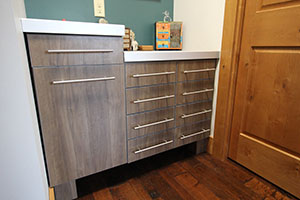 At Miller's Casework, we have a long line of Old-World woodcrafters in the family and we've put that expertise to work with modern designs to bring our customers stunning results time and time again. Frameless cabinets are also known as European cabinets and were conceived in Germany after World War II. The majority of the cabinets in the United States are framed and while we tend to see our cabinets reside in commercial settings, they continue to grow in popularity for homeowners as they offer more valuable space in garages, workshops, and more. As a family owned company, Albert Miller, our owner, has taken the time to ensure every employee on our team gains the knowledge and skills needed to bring our customers flawless results every time. If you've been thinking about changing out your cabinets or if you need new cabinets installed, we're the team to call in Tennessee!
Call Today
If you're looking at cabinets and you haven't heard of frameless cabinets before, now's the time to make sure you get the cabinets that will suit your needs just right. With Miller's Casework doing the work, you won't have to worry about a thing. We will work closely with you to ensure the design and look is exactly what you're wanting and with near complete customization available, we're sure you'll love them! If you have a property in Mount Juliet, TN and you need cabinets, reach out to our team today at (931) 739 – 9292.