Wednesday, June 29th, 2022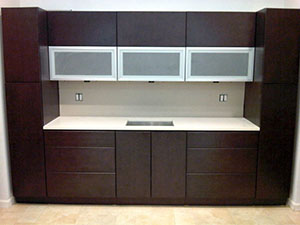 A first impression can make or break a business deal, so it's important that the interior of your workplace makes a positive impression on prospective customers. When a client walks in the door of your business, are they seeing a clean, sleek, modern space—or a drab, outdated one?
An effective way to update a business environment is with new cabinetry. Frameless cabinets are a particularly attractive choice, and nowhere in the Nashville, TN, area will you find more exquisite and detailed cabinet work than at Miller's Casework.
For all of your cabinetry needs, Miller's Casework delivers outstanding finished products that uniquely blend old-world craftsmanship with a contemporary aesthetic. Give us a call today at (931) 739-9292!
Frameless Cabinet Assets
At Miller's Casework, we specialize in the very finest handcrafted cabinetry solutions. One of the most popular types of cabinetry is the European frameless cabinet design. For business environments, frameless cabinets are particularly well-suited, offering: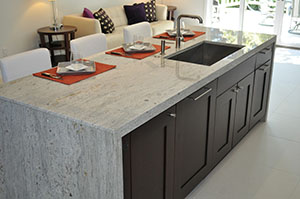 Additional storage space
A sleek, seamless look
Larger drawers
Easy cabinet access, since there is no center stile
Structural sturdiness
Whatever the reason you're in the market for new cabinets—whether you need roomier solutions than the ones you currently have or you simply want to update the look of your workspace—Miller's Casework has the gorgeous, handcrafted cabinet solutions you're looking for.
We Work Hard to Stand Out
Miller's Casework is a family-oriented business, and we take our craftsmanship very seriously. Our business is to deliver exquisitely crafted cabinets that are durable, functional, attractive and custom-tailored to meet a client's particular needs.
We are noted for the quality of our work, and we strive to deliver the very highest quality in everything we do. The following are some of the other attributes we are known for:
Topnotch residential and commercial cabinet products crafted with the very best materials
Residential and commercial casework built using techniques that meet or exceed Architectural Woodworking Institute standards
Exceptional high-pressure decorative laminate and melamine casework options
Premium-grade craftsmanship utilizing efficient, computerized manufacturing operations
Personalized service
Fully trained and certified installers
Broad assortment of design and color choices
Get an Estimate Today
Whatever your cabinetry needs, Miller's Casework is dedicated to providing the beautiful and durable craftsmanship you desire and deserve along with plentiful options to suit your wants and budget.
Call us today at (931) 739-9292 to get an expert's estimate for your frameless cabinetry project!