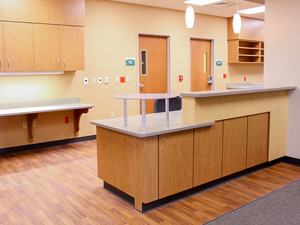 Albert Miller, the owner of Miller's Casework, has a long family history of Old-World woodworking experience. He has spent years blending his skills with modern day techniques to better serve his clients. If dedication, quality craftsmanship and a commitment to excellence matter to you, Miller's Casework is your only option. Let us show you why we are leading the casework industry in Tennessee, Georgia, Alabama and Kentucky.
For clients located in the Lebanon, Tennessee community you can reach us by phone at (931) 739-9292. Let us take a look at your commercial space to determine the best way to maximize your storage. We are confident that we can turn you into another satisfied Miller's Casework customer.
How can we help you?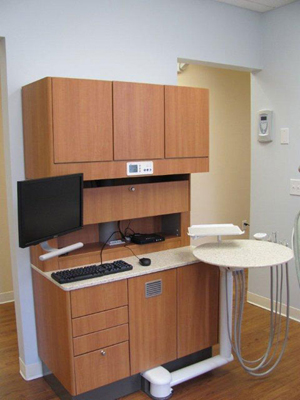 Our commercial cabinets are created to be aesthetically pleasing while remaining fully functional. We offer several style, color and material options to better suit your needs. Some of the industries we serve include:
Health facilities
Banks
Hotels
Fitness centers
Salons
Restaurants
Locker rooms
Retail locations
Convenience stores
Warehouses
Industrial buildings
And so much more
Regardless of the type of business you are in, we can help. Whether you need display shelving to show off your latest products, storage for office supplies to accommodate your growing business, or cabinetry to hold tools for your warehouse, we can do it all. No project is too large our small for our experienced team.
Designing for commercial locations presents challenges not seen in residential cabinetry projects. Typically, you are working within very strict space limitations while accommodating high performance demands. The Miller's Casework team is experienced at working within these parameters to provide quality commercial cabinets.
Commercial Cabinets Consultation
Whether you are remodeling your facility or have a new structure, Miller's Casework can create commercial cabinets that work within your budget while giving you the look you want. We will take the time to understand what you require of your space to ensure your continued satisfaction with the commercial cabinets we provide.
Please call us at (931) 739-9292 for a customized commercial cabinetry estimate. Our service area includes Lebanon, Tennessee and all of the surrounding towns and cities. We look forward to the chance of make the most of your workspace.