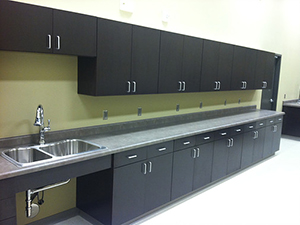 Are you searching for custom made commercial cabinetry work for your commercial business? If you are located in Oak Ridge, Tennessee, Miller's Casework may have the solution for you! Contact us today at (931) 739-9292 so we can help you with all of your unique commercial cabinetry necessities.
Miller's Casework offers premium commercial cabinets to Tennessee as well as regions of Georgia, Kentucky, and Alabama. As a locally owned and operated business, we go above and beyond to show our customers the value we put into cabinetry work.  We fully support our record of top-notch craftsmanship and quality customer service.
Benefits of Frameless Cabinets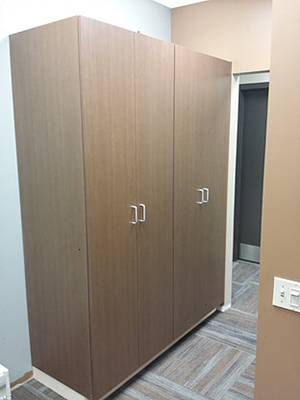 There are a number of amazing benefits for choosing a European frameless cabinetry design for your commercial business space. Here are a few examples:
Increased space for storing items
Provides a sleek, seamless aesthetic
Drawers tend to be larger
No center stile ensures easier cabinet access
Structurally sound
No matter if you're looking for a larger cabinet or an amazing new look, we've got your back! Our team of experts is dedicated to providing you with only the best in cabinetry. If you are based in Oak Ridge, Tennessee, or the surrounding communities, contact us today at (931) 739-9292. We are ready to help you with your cabinetry journey!
Why Miller's Casework
Albert Miller, owner and father, and his family come from a long line of Old World woodcrafters. The professionals at Miller's Casework have the skills to combine modern techniques with Old World traditions to produce a unique frameless cabinetry. Here are a few extra reasons why Miller's Casework should be the one you choose:
Outstanding customer service
Tailored solutions to accommodate your specific needs
Fully trained and certified installers
Premium cabinets of the finest materials available
Huge array of designs and colors
A business is only as great as the customers say they are. We aim to provide excellence daily through our unique customer service and kindness. Let us show you why many other happy customers have chosen Miller's Casework for all of their cabinetry work! If you are based in Oak Ridge, Tennessee, let us help you!
Frameless Cabinet Estimate
Contact us today at (931) 739-9292 so we can provide you with a professional frameless cabinetry estimate. We will present you with a list of options and discuss with you the best solutions for your situation.
We look forward to building a connection with you!