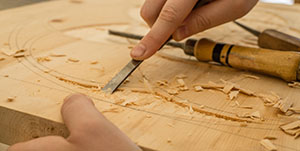 If you're looking for the best custom cabinet manufacturer in Smyrna, Tennessee, or the surrounding areas, look no further than local company, Miller's Casework. We are Tennessee's #1 choice for commercial cabinets, with beautiful, old world artisanship, and sturdy, modern technology and manufacturing processes.
At Miller's Casework, we specialize in customizable frameless cabinetry for all your storage needs. Our clients rave about our superior customer service and carefully fashioned products. Give us a call today to find out more of what we offer – (931) 739-9292.
Custom Cabinetry Designed To Fit Your Needs

When you hire Miller's Casework, you get to experience the extra thought and care that goes into creating cabinetry that fits your exact needs, space, and specifications. Your new custom cabinets will exceed your expectations and integrate seamlessly with the surrounding environment. We do this in two ways:
1) We offer a wide variety of customizations, from cabinet material to color and accessories:
Cabinets can be ordered in High Pressure Decorative Laminate or Melamine.
HPDL cabinets are available in dozens of colors, while we have 2 primary color options for Melamine cabinets (with many more available upon request).
Our nickel-plated hinges can be supplied in one of 3 designs: 120-degree, 170-degree, and heavy duty 5-knuckle.
2) We eliminate the chance for human error with computer-run routing machines:
Computer design and manufacturing means you get flawless custom cabinetry that is consistent, precise, and accurate, every time.
Solve Your Storage Needs For Every Space

In our many years of business, we've created storage solutions using our versatile frameless cabinets in a wide variety of spaces:
Kitchens
Laundry spaces
Home offices
Craft rooms
Vanities
Media centers
Closets
Pantries
Utility closets
Shops/garages
Beverage areas/bars
Bathrooms
Linen closets
Our cabinets are suited to much more than just home spaces. We have designed and manufactured custom frameless cabinets for many commercial clients as well. Our durable cabinets are a great option for schools, offices, medical offices, retail space, laboratories, break rooms, and so much more!

Call For A Free Quote

As part of our commitment to providing customers with a friendly, courteous, superior experience, Miller's Casework provides free consultations and estimates to clients. We are confident that after you meet with us, see what we have to offer, and get the special "Miller's Casework" treatment, you won't want to hire anyone else.
Call us today to experience the Miller's Casework difference at (931) 739-9292.