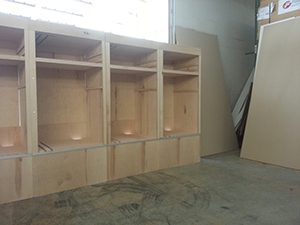 Does your business require newly installed commercial cabinets that offer durability and strength? If you're located in, or around, Cookeville, Tennessee, Miller's Casework is the commercial cabinet company for you! We're a Tennessee commercial cabinet manufacturer that focuses on providing residential and commercial cabinetry with a premium European frameless design.
Selecting the right cabinet manufacturer is an important process for your business. It's important that you ask your manufacturers the right questions to narrow down your options and to make sure that you pick the company that is right for you. Here are some questions you should ask any manufacturer:
How much experience does the manufacturer have?
What is their reputation?
Does the manufacturer's employees aim to continue their education and training? If so, how?
Does the manufacturer have testimonials from previous customers?
What makes you, as a manufacturer, stand out from your competition?
When you call us at (931) 739-9292, we will provide you with a no-cost professional residential or commercial cabinet quote. One of our experts will schedule a time convenient for you to get a personalized quote. After, our technician can provide you with many different options and will answer any questions or concerns you may have. With our dedicated approach to quality customer service you will not be disappointed when you chose Miller's Casework for all of your cabinetry needs.
Experienced Commercial Cabinetry Experts
As a commercial cabinet manufacturer, Miller's Casework provides many benefits. Here are a few of these benefits: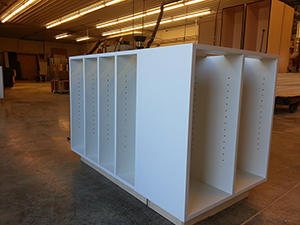 High-quality residential and commercial cabinet products of the finest materials
Exceptional high pressure decorative laminate & melamine casework choices
Tailored service from our company
Premium-grade craftsmanship with efficient, computer-based manufacturing operations
Residential and commercial casework that's built with techniques, meeting or exceeding, beyond Architectural Woodworking Institute standards
We can provide you with master craftsmanship and premium commercial cabinet manufacturing services. Miller's Casework is a family-operated business and our services extend from Tennessee to parts of Alabama, Georgia, and Kentucky. Let us help you today!
Commercial Cabinetry Estimate
Whatever your cabinetry needs may be, we have a solution for you! Give Miller's Casework a call! One of our experts will visit your location and provide you with a no-cost professional residential or commercial estimate based on your specific requests. We will also be there to answer any questions you may have and discuss the different options available for your home or business.
Don't hesitate! Give us a call at (931) 739-9292 for a professional quote! We look forward to earning your business.