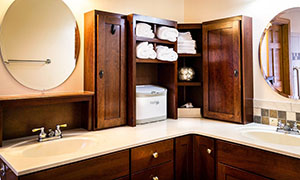 Miller's Casework is the #1 provider of beautiful, sturdy frameless custom cabinets for Kingsport, Tennessee, and the surrounding areas. At Miller's we can take your casework and cabinetry ideas and turn them into a reality with premium cabinet design, production, and installation.
As a family-owned business, Miller's Casework is dedicated to providing our clients with the best in professional, cutting-edge custom design work and world-class customer service. Call us today at (931) 739-9292 to get started! We offer free, no-obligation, no-hassle quotes on all work.
What Are Frameless Cabinets?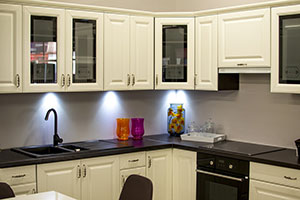 Traditional cabinets include a 1-½ inch frame that tops the front of the cabinet, the side facing the user. This frame adds dimension to the front door and provides a place for cabinet doors to be secured.
However frameless cabinets are a inspired by European design, intended to maximize the usable space available and suggest a more modern, clean, contemporary aesthetic. They do not include this face frame, thus offering fuller, more complete access to the cabinet space. Flat door and drawer fronts provide a sleek look. Frameless cabinets also don't include a center stile between the two door fronts, making access easier. All this results in more space more functionality in your cabinets.

Innovative Cabinet Manufacturing

What sets Miller's Casework apart from other cabinet manufacturers or bulk suppliers is our commitment to detailed, old-world craftsmanship, while utilizing the latest in innovative software and machinery to bring our customers the best in clean, beautiful custom cabinets. Our family legacy of hand worked wood cabinets combines with precision technology to result in commercial cabinetry with a rich look and minimal waste.
Miller's Casework can customize your frameless cabinets down to the very last little detail. Here's a simple overview of our process:
1) Choose your cabinet material:
Melamine
High pressure decorative laminate (HPDL)
Name brand products (Formica, WilsonArt, etc.)
2) Select your hinge design:
120-degree nickel-plated, fully-adjustable hinges
170-degree nickel-plated, fully-adjustable hinges
Heavy-duty, 5-knuckle hinges
3) Customize your cabinets:
Finished interiors
Finished ends
Veneers
Plywood cores
At Miller's Casework, the sky is the limit. Our nesting and cutting machines allow us to fully customize your cabinets to suit your needs, from traditional rectangular cabinetry to free form shapes. Our friendly, knowledgeable experts can walk you through the possibilities and guide you in every design decision.

Call Today!

Miller's Casework serves the communities of Kingsport, Tennessee, and the surrounding towns of Sparta, Cookeville, Crossville, Knoxville, Morristown, Jackson, Johnson City, Sevierville, Marvyille, Cleveland, Chattanooga, Columbia, Murfreesboro, Nashville, Clarksville, Springfield, Gallatin, and Hendersonville.
We specialize in bringing quality custom cabinets to a wide variety of industries and applications, from hotels and doctor's offices to businesses, educational facilities, and athletic spaces. Call (931) 739-9292 today to get started!