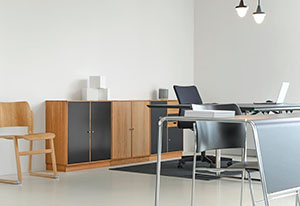 New custom commercial cabinetry is a terrific way to update the interior of a business, and nowhere in Nashville, Tennessee will you find more exquisite cabinetry options than at Miller's Casework. We have a commitment to quality and we always uphold our standards.
Based in Sparta, TN we pride ourselves on offering gorgeously crafted and durable cabinet solutions. Our expert team has perfected the art of blending refined Old-World craftsmanship with contemporary manufacturing techniques, and the result is beautiful, high-quality cabinetry that will effectively enhance any space.
Give Miller's Casework a call today, (931) 739-9292, for a free quote on custom cabinets. We are dedicated to providing you with the best possible experience and the highest quality cabinet solutions!
Unparalleled Quality
At Miller's Casework, we have established a reputation for offering some of the very best cabinet solutions in Tennessee. We specialize in both commercial and residential cabinets that feature a European frameless design.
We are dedicated to detail and delivering meticulously crafted finished products, and our devotion to quality shows in the end-products we offer our valued clients. No matter what kind of cabinets you choose for your space, you can depend upon precision, detail and an exquisite aesthetic effect.
Our business has been built on a proud family heritage of Old World craftsmanship, and we continue the tradition of delivering exquisite finished products of the highest caliber. The following are some of the assets we offer our valued clients:
Cabinet solutions built using materials and construction techniques that meet or exceed those of the Architectural Woodworking Institute
Custom casework for virtually any residential or commercial application
High-pressure decorative laminate and melamine casework options
Cabinets made using industry-leading CNC software and equipment
Broad array of color options
Attention to quality throughout the manufacturing process
We're Here to Meet Your Needs
As a family-oriented business, Miller's Casework is dedicated to delivering top-quality products and outstanding customer service to ensure our clients always feel like family. We work hard to provide our patrons with professional, friendly service over the course of each project so that we showcase our skills and delight our customers.
Give us a call today at (931) 739-9292 to receive a free, no-obligation quote for your next commercial cabinet project. We know you'll be delighted with the new look of your business space once the Miller's Casework team has finished its work!