There are several ways that our variety of office storage solutions can aide your facility. Professional office settings, garage storage requirements and everything in between, Miller's Casework has got you covered. We have organizational storage options to maximize your space and increase efficiency to: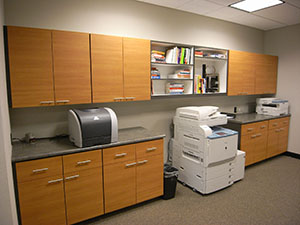 Increase employee efficiency
Declutter workspaces
Heighten workflow
Organize high traffic areas
Beautify any space
With our custom commercial cabinetry, Miller's Casework can transform your workspace into a more comfortable and efficient work place. If you would like to learn about the many ways our cabinetry solutions can help your facility, please give us a call. Our office number is (931) 739-9292. We always look forward to speaking with potential and return clients alike.
Commercial Cabinetry
Part of what we offer our clients is functionality. We are here to improve your storage needs and to make your space work for you. When you rely on Miller's Casework you can expect quality craftsmanship for your commercial or industrial space. A few types of commercial properties we serve include: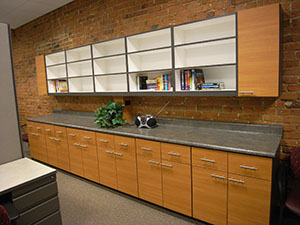 Hotels
Banks
Restaurants
Doctors' offices
Libraries
Salons
Health facilities
And much, much more
We have improved facilities in Murfreesboro, Tennessee and all surrounding communities. Commercial cabinetry projects of all size and requirements, there is nothing our dedicated team can't handle. Call today to learn how we can improve your space. You can reach our main office at (931) 739-9292.
Commercial Cabinet Manufacturer
For our clients located in Kentucky, Georgia, Alabama or Murfreesboro, Tennessee, we look forward to working with you. We are known for durable commercial cabinets that are beautiful and functional. We offer beautiful European designs as well as more traditional styles. For quality that shows with every commercial cabinetry project we complete, it is no wonder why Miller's Casework is leading the commercial cabinetry market in our service area. We guarantee to bring you Old World Craftsmanship enhanced with modern day manufacturing techniques.
If you are interested in a FREE commercial cabinetry project estimate, please don't hesitate to contact our main office. You can reach us at (931) 739-9292 and we look forward to working together.